The Challenge:
Boohoo is one of the UK's leading fast-fashion outlets.
The brand recognised a key trait in their target audience was a desire for instant gratification. Boohoo's creative team had the idea to reward University freshers at welcome fairs with a donut and vouchers for their website in exchange for inputting their contact information on an iPad. One lucky student would get a gold sprinkled donut, which would win the student £5,000.
We were asked to design and build BooHoo their donut dispensing HQ.
Key requirements;
Allow for Boohoo to capture multiple students data at once

Securely capture the data according to GDPR requirement

Transportable and modular solution, as it will be travelling to universities across the UK

Serve donuts at a fast pace
The Solution:
Upon receiving the interesting brief, we set to work on designing a system that would push the donut boxes through electronically and tried to procure a production line facility, but came to the conclusion that it would be cost-prohibitive when compared to the time of a single staff member sat inside the box operating the system.
After many iterations, working closely with the client, we would build a wooden box, that had five walls in the shape of a pentagon. 4 of the 5 walls had an iPad and a rotating platform mechanism which we designed and built in-house.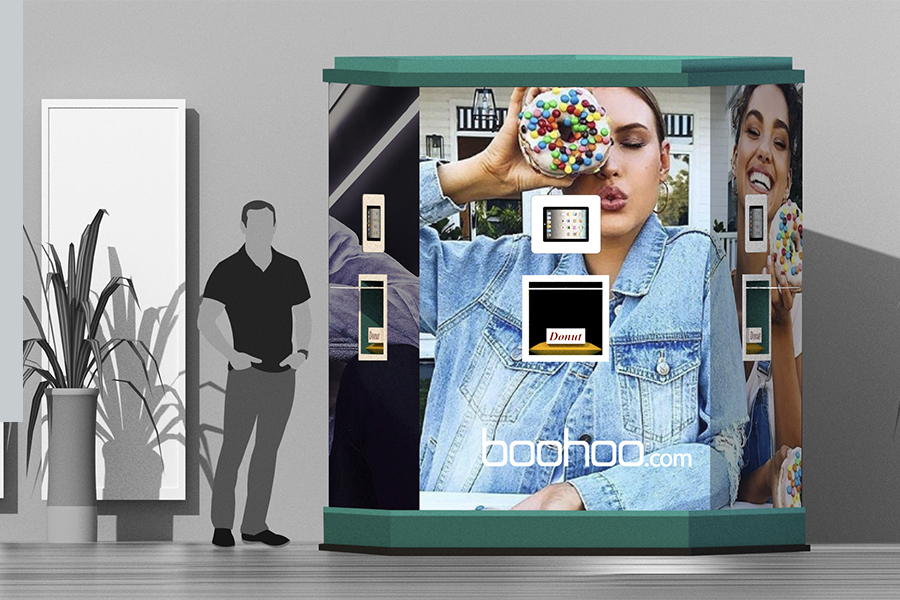 Students could enter their data on one of four iPads, stationed on the external wall of the box. Once entered, the iPad would recognise the data submission and send a message to our semi-concealed rotating platform, which would spin to reveal their boxed donut and vouchers.
The staff member would have to simply place the pre-boxed donuts onto the custom-built motorised door mechanism, once they were alerted by a light that the iPad was being used. Once the students entered their details and pressed the button, the donut would reveal itself.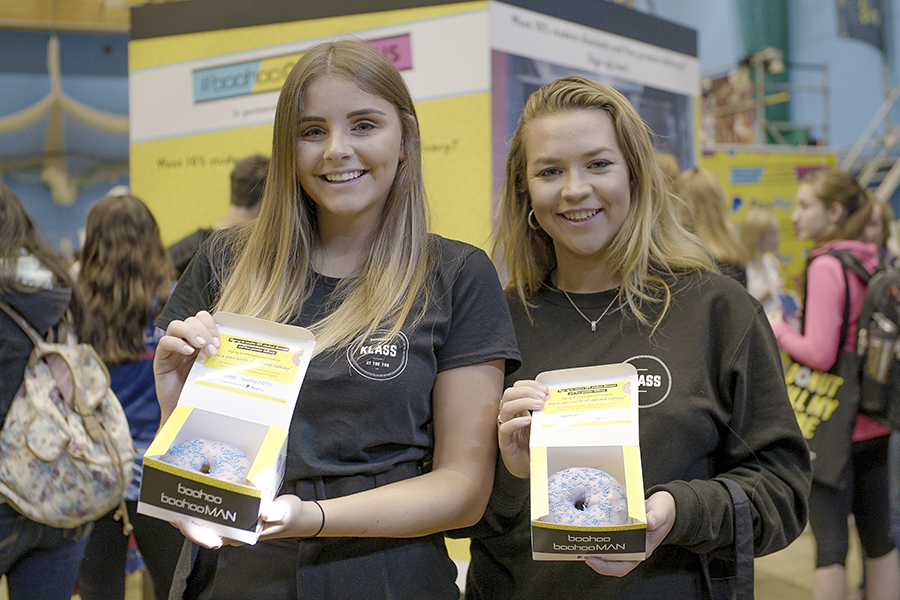 Throughout this process, we had to design out several functionality issues, such as ensuring that there was a sensor on the front of the unit, so if someone's hand was inside the box, that it would not close on their limb! We also needed a system to let the user know if there was a donut inside each box or if it had been taken, so a pressure sensor with a LED light allowed the user this 'sight' but from a comfy chair inside. The system also allowed the user to turn off all functionality in the iPads so that they could get out for regular breaks, with the devices displaying a message 'back soon!'
We worked alongside Boohoo and their advertising agency to produce eye-catching artwork for each external-facing panel, displaying key brand information in striking designs. The campaign's hashtag, company branding and shots from a New York fashion shoot were included, with a brightly coloured background design to draw in as many students as possible.
We programmed the front-end application interface with a unique iPad application, custom-built at Okoru, with a variety of custom fields so that BooHoo could better understand their customers. The API allowed users to enter their data which was then sent to an encrypted server within Boohoo. This was designed so that personal details were managed in accordance with GDPR regulation.
The Results
Outstanding ROI for the client. What was a very cheap campaign gave them a huge data set and clear insights on their potential customers

Over 17,000 sign ups

Influencers and celebrities visited and attracted large numbers of guests to the dispenser

The project was highly successful and thoroughly enjoyable to work on

Custom electronics, designed at Okoru which held strong even when receiving huge volumes of user data